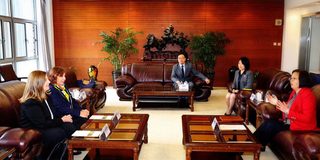 On the morning of March 30, Mrs. Carmen Polledo and Mrs. Paula Oliveto Lago, the members of the Argentine National Congress, visited SOU. President Yuan Wen received the guests.
President Yuan introduced the development history and university profile of SOU. As a university without walls, Shanghai Open University takes advantage of its branch school system and learning platform and provides citizens with opportunities for higher education and lifelong learning. SOU has played an important role in supporting regional industry development, promoting higher education equity and enhancing the quality of urban population's lives. At the same time, as the host institute of the UNESCO UNITWIN Network, SOU actively promotes international cooperation in the field of open distance education and has achieved remarkable results.
Carmen Polledo said that she felt the tremendous advantages of open distance education after the visit. Like China, education has always been the focus of the Argentine government. Buenos Aires, the capital city of Argentina, has a number of open educational institutions. The municipal government is also exploring the establishment of a municipal university like Shanghai Open University. Both sides can explore resources cooperation in the field of culture, language, and academic disciplines on this basis, and expand this form of cooperation to other universities in Argentina.
The meeting enhanced the mutual understanding between the higher education fields in Shanghai and Buenos Aires, and the two sides will carry out practical cooperation projects in order to enhance Sino-Argentine education exchanges and cooperation.
Director of the Foreign Affairs Division of the Shanghai Municipal CPPCC Office, Mr. Wang Junwei, accompanied the delegation. Representatives from the Foreign Affairs Office, Development and Research Department, Institute of International Exchange of SOU participated in the meeting.