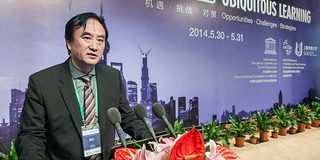 202 representatives from 20 countries including 41 overseas participants met at Shanghai Open University to share their views and expertise on the ubiquitous learning between May 30-31th. The two-day conference was co-organized by National Commission of The People's Republic of China for UNESCO and Shanghai Open University.
Deputy Director of Shanghai Municipal Education Commission Yuan Wen and Secretary General of Chinese National Commission for UNESCO Du Yue presented and addressed at the conference's opening ceremony. During the conference, professor of Graduate School of Education of Harvard University Christopher Dede, professor for Advanced Learning Technologies of Open University of the Netherlands Marcus Specht, President of the Open University of China Yang Zhijian, professor of Institute of Education of Tsinghua University Cheng Jiangang and President of Shanghai Open University Jiang Hong delivered keynote speeches. The conference, themed "Ubiquitous Learning: Opportunities, Challenges and Strategies" , had four parallel sessions on "Moocs and Ubiquitous Learning", "Big Data, Cloud Computing and Ubiquitous Learning", "Micro-Course and Mobile Learning" and "ODL Engineering Technology and Ubiquitous Learning". The conference theme firmly grasp the forefront of ODL issues and hot topics, including the ubiquitous mobile learning environment, achieving seamless learning technology theory and practice cases, big data, Moocs, etc.. 98 conference papers were received with 18 papers submitted by overseas participants and 80 were submitted by Chinese participants.
The chairman of World Committee for Lifelong Learning Yves Attou gave a speech at the closing ceremony. President Jiang Hong concluded the conference with a brief speech.