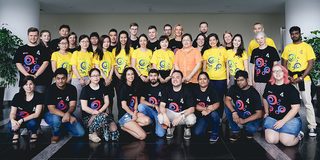 The fifth session of Immersion Hub Short Term International Student Program was officially started on the morning of June 12 at Shanghai Open University. Speaking at the opening ceremony, Vice President ZHANG Jin expressed a warm welcome to all international students, hoping that 25 students from 8 countries could learn from the two-week program and experience the Chinese culture by themselves.
After visiting the Digital Lab of Open Learning at Shanghai Open University, the students had their first Chinese language class – Coding Chinese. SOU's foreign expert Zhao used a unique teaching method to help students to learn Chinese characters, verbs and sentences in a relatively short period of time.
In the afternoon, students experienced a classical Chinese dance lesson instructed by Zhou Yuqi. Ms. Zhou is good at Chinese classical dance, she taught international student a few fundamental dance movement and proper postures in Chinese classical dance. In order to show students diverse styles of Chinese dance, Ms. Zhou also performed Xinjiang folk dance and taught international students a short piece of it. After the class, international students from Brazil and Russia also demonstrated the dance from their countries.
The dance class was followed by team building activities organized by David James, the specially invited visiting scholar of SOU. The activities have made students to understand each other's cultural backgrounds, cultural identities, personal interests through ice-breaking games and small group Q and A. At the end of the event, the students said that they hoped to learn Chinese, to exercise their English skills, to build network and to understand the Chinese food and culture better through the two-week program. Anja, one participant from Belgium, said that "cultural integration is very important in international communication, and everyone with cultural identity should not confine themselves to the cultural circle in which they are located, but should be more tolerant, receptive and integrated into a multicultural culture. The easiest way to achieve this goal is to take the chance to communicate with students from different countries, which is also a rare and valuable opportunity offered to us by the Immersion Hub Program."
The first Immersion Hub Short Term International Student Program was held in 2013. So far it has attracted 239 international students from 27 countries for the past four years. It features Chinese language and culture classes and activities, facilitates communication and exchanges among students from Open Universities around the world and conventional Universities.