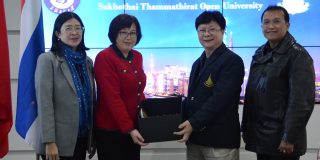 Between November 20-24th, 17 teachers and students from the Sukhothai Thammathirat Open University(STOU),Thailand, visited SOU for cultural exchange. This event was the first time that SOU and overseas UNITWIN Network member institutions to carry out cultural exchange activities between teachers and students.
At the welcoming ceremony on November 21, President of the SOU Yuan Wen welcomed the delegation and introduced the "One Belt and One Road" programs of SOU. She hoped for exchanges and cooperation in more fields between SOU and STOU to achieve common progress; President of the STOU Panumas Kudgnaogarm gave an address afterwards, then they exchanged souvenirs on behalf of two universities.
The Institute of International Exchange prepared various activities for visitors of the STOU, including Shanghai Culture lecture, Chinese language lecture, calligraphy class, historical and cultural search, city development tour and art performance. Through the activities, the delegation of STOU had better understanding about Chinese culture, society and education.
At the closing ceremony, delegation of STOU and teachers and students of SOU brought wonderful art performances. Dr. Weng Zhuhua, the Executive Dean of IIE, then awarded certificates of completion to the teachers and students of STOU.
The exchange and communication between SOU and STOU has enhanced the mutual understanding and trust, has further enhanced the cooperation field between SOU and STOU, and has fostered the friendship between the Chinese and Thai people.