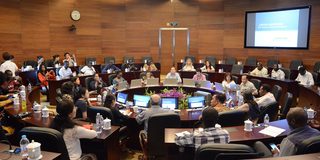 On June 15th morning, 2018 International Visiting Scholar Program of UniTWIN Network in Distance & Open Learning and Shanghai Open University has been concluded successfully. Ms. Zhang Jin—-the vice president of SOU, and Mr. Robert Parua—-the Program Specialist for Education from UNESCO Beijing Office have attended the closing ceremony and delivered addresses. Dr. Weng Zhuhua, the executive dean of the Institute of International Exchanges of SOU chaired the closing ceremony.
Ms. Zhang Jin has summarized the activities that the international visiting scholars have participated in, and also expressed the wishes of the future collaboration between SOU and the international visiting scholars' home institutions. Mr. Robert Parua has also given his affirmation and praise to the success of this program from the perspective of its influence on the development of education of UNESCO. They both awarded the certificates of the program to the international visiting scholars.
During the passing two weeks, the 19 International Visiting Scholars from 18 countries has successfully completed the program. They have had an in-depth discussion with the Research and Development Department, the Teaching Affairs Department, the Institute of International Exchanges, Teacher's Resource Center, Course Resource Center, and Quality Assurance and Evaluation Center. They also have exchanged ideas and views with teachers from School of Public Administration, School of Economics and Management, School of Science and Engineering, as well as School of Humanity and Arts. They also paid an on-site visit to Yangpu Branch School, Qingpu Branch School, Fashion Design School and Xuhui Branch School of SOU. They have also shared best practices and presentations through four seminars, with the theme of the Application of ICT in ODL (Open & Distance Learning), Teachers' Professional Development & Team Teaching in ODL, Program Development & Course Development in ODL, Inclusive Education in Lifelong Learning Society, and Quality Assurance in ODL. Through both face-to-face and online interaction, they had full exchanges and communications with SOU teachers and students, the former SOU International Visiting Scholars, the member institutions of the Unitwin network in ODL.
This is the 11th session of SOU International Visiting Scholar Program since 2013. Up to now, SOU has received 104 International Visiting Scholars from 44 different countries. It is the first time for the scholars from Australia, Azerbaijan, Botswana, Germany, Ghana, Maldives, Papua New Genuine and Singapore to participate in SOU International Visiting Scholar Program. Through this program, inter-university understanding and trust has been enhanced, and the opportunities of international exchanges in many aspects have also been explored.