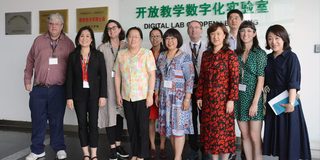 The delegation of California State University-Long Beach (CSULB) came to visit Shanghai Open University (SOU) on June 11. Members of the delegation include professors from College of Natural Sciences and Mathematics, College of Liberal Arts, College of Education, and College of Health and Human Services at California State Univeristy-Long Beach. ZHANG Jin, Vice President of SOU and other related faculties attended the meeting.
ZHANG Jin introduced the development history and features of SOU, and proposed suggestions for further cooperation between SOU and CSULB. After that, the delegation visited the Digital Laboratory for Open Education to get a deeper understanding of SOU's degree education, the construction of community education resources, and the application of ICT in education. The delegation felt it's admirable that SOU fully applied modern information technology to teaching and practicing, and provided inclusive and flexible education for citizens.
Later, the two sides had further discussion into the fields they were both interested in, including training programs for faculties, student exchange, the construction of department of Urban Public Safety Management, and possible ways of developing the cooperation.