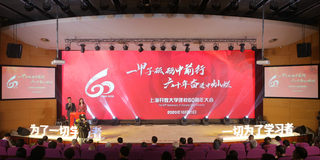 The 60th anniversary event of Shanghai Open University (SOU) was held on October 21, 2020.
Chen Qun, Vice Mayor of Shanghai, Chairman of the University Council, and Zhang Endi, the Vice Chairman of the Shanghai Political Consultative Conference attended the event. Stefania Giannini, UNESCO Assistant Director-General for Education sent a congratulatory letter.
Jing Degang, secretary of the Party Committee and president of the Open University of China (OUC), delivered a speech. He said, over the past six decades, driven by its commitment of "For All Learners, All for Learners", SOU has made great contributions to the increase of the education level of the labor force in Shanghai, as well as the improvement of the comprehensive quality of the citizens. SOU has played the key role in building a learning city. OUC, together with SOU, will actively adapt to the development trend of intelligent, lifelong and integrated education. According to the requirements of the Ministry of Education, OUC and SOU will build a main platform for lifelong education and online education, and a platform for flexible education and international cooperation.
Lou Junjiang, secretary of the Party Committee of SOU, delivered a welcoming address. He said, in the future, SOU will keep in mind the urban development concept of "the city is built by the people and also serves the people", and will build a lifelong education system with more flexible methods, more abundant resources and more convenient ways of learning. Yuan Wen, president of SOU, delivered a speech. She said, SOU will provide more inclusive education services with a more open attitude in the new era, to enable more Shanghai citizens to pursue a better life. SOU will also strive to establish itself as a first-class open university in the world with Shanghai characteristics and China's identity.
Shanghai Open University also held the opening ceremony of the Intelligent Learning Center and the unveiling ceremony of High School Affiliated to Shanghai Open University.